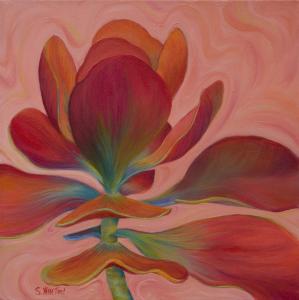 Ticor Title Insurance proudly introduces their expansive business quarters during their debut as a First Friday Artwalk destination in Ashland, OR. Adorned with Sandi Whetzel's vibrant, contemporary, flora art through the end of April, the business seeks to become a popular art venue.

The first Friday of each month, the public is invited to stroll the historical downtown railroad districts, exploring the visual and tasty treats at many participating art venues from 5-8 p.m. Ticor, located at 180 Lithia Way, near the corner of Lithia Way and First Street, is near the center of some of the popular art stops. Ticor will serve wine and chocolates to art observers this Friday and April 4th.

Ticor management requested Sandi Whetzel's art via Ashland Art Center's ART2Business program because they felt her uniquely textured, graceful floras complemented their contemporary, wide-open space. Sandi is pleased to have her art hanging on the walls of such a spacious,...